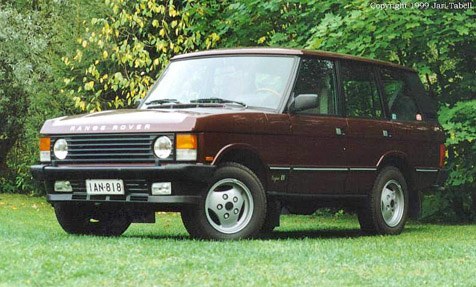 I have owned this Range Rover now about 3 years and it serves as my trusty daily driver. My previous everyday car was a Alfa Romeo 75 and I wanted to have something more robust, which this definitely is. It is a 1988 model with 3.5 litre EFi engine and it was imported to Finland new by a local Range Rover and Jaguar specialist garage for their own use. They special ordered it with a manual gearbox as 'officially' imported Range Rovers had an automatic as standard. They also fitted harder springs, shocks and anti-roll bars to it from new.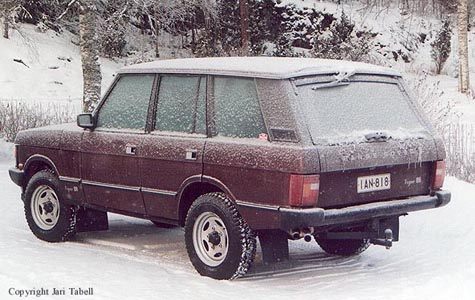 Above: Very Cold- around -30 C, but she still started!

It was mechanically in very good condition when I bought it, but there was some corrosion problems here and there. I have done some rust repair work for both the body and chassis, and also the paintwork needed some tidying. Mostly it has still the original paint though.

Some of the other modifications that I have done to it are:

- Double S stainless steel exhaust system
- Kenlowe Heavy Duty electric fan kit
- K&N free flow air filter
- New tow kit (ther original was so badly rusted)
- Wood rim Raid steering wheel
- Garmin GPS

During winters it has studded tyres on Discovery steel wheels.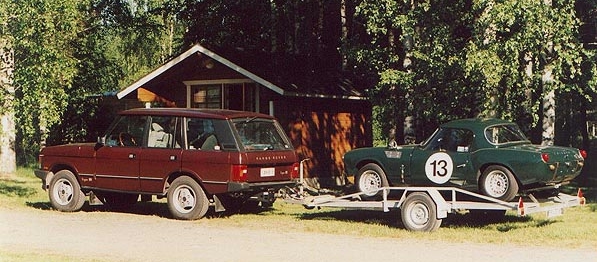 Above: The RR at Work- Towing Jari's Triumph Spitfire Racer.

As the photos suggest, it has been a true multi-purpose vehicle for me. It has served both as everyday transport and for holiday trips as well. I also use it as a tow vehicle for my Triumph Spitfire historic racing car, and I must confess that one reason for buying it was that it's nice to have a British tow vehicle for a British racer. Normally I have the back seats completely removed during the trips, which gives plenty of extra load space. Actually, I use it for almost all other things but off-roading!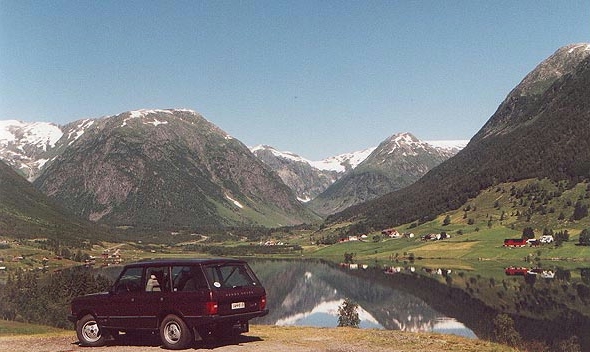 Above: Wow just look at that glorious scenery...

One of the few drawbacks with it is (naturally) the pretty high fuel consumption. Although as a tow vehicle it is surprisingly econimical, as the consumption is about the same with or without a trailer. Another problem here up in the north of Finland, is that the roads are salted during winters, and everybody can imagine what that does to the body panels and chassis! The seams between aluminium and steel panels are especially prone to corrosion. Thorough rust proofing helps there though.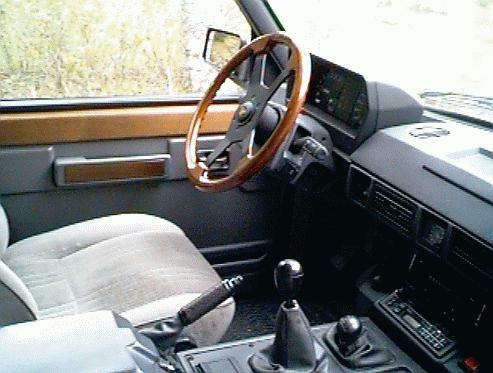 Above: Grey Vogue interior. Rare 5 speed manual.

I believe that I will have this Range Rover still many years. Sometimes I have thought that maybe I should buy another daily driver in addition to it, but then I haven't found a proper reason for that (yet). Anyway, I plan to put it on retirement some day, and maybe there will be also a full restoration if needed. Selling it has never crossed my mind...

Jari Tabell
Lahti, Finland



More Pictures Coming Soon...