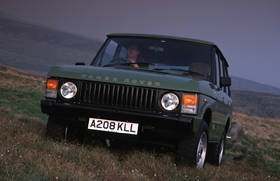 So, you've read these pages, and you've been moved. Deeply moved. You have been inspired to the very core of your being. Your life now makes sense, whereas before all was blur, emptiness and sorrow. Yes, you must have a Range Rover to call your own.

It's not too late! Despite the ending of production of the Classic Range Rover, it's not too late! You can own your own piece of history, a classic car making a unique style statement.

When you're ready to take the plunge, the following link will take you to a list of actual Range Rovers for sale. Go on, you know you want to. You know it will make your life complete. People will like you more. You'll get that promotion. A parking spot will be reserved for you in the afterlife. Go on, go on...
Before you read on, I appologise for the lack of pound signs- the site builder won't exept them.

He has a rough price guide :

100-300= A pre '79 ( 1970 - 1979 Phase 1 ) two Door example, no MoT. A restoration project or ex offroader.

301-500= Again a two Door, but a later vehicle
( 1979 - 1984 Phase 2 ) in average condition but now MoT'd or up to an MoT-able standard. Diesels add 200+

500-600= 4 Door. 1981- 1984 ( 1981 - 1984 Phase 3 ) in good condition with extras ( eg: Alloys. )
and a long MoT. If two Door, must be in excellent condition.

600-800= 4 Door. ( 1984 - 1986 Phase 4 )
Pre injection. Long / New MoT.
Diesel- Early ( 1981-2-3 ) Phase 3, 4 door.
tatty, but with an MoT.

800-1000= Ltd edition eg: Vogue, County etc.
( phase 4 ) in good condition. Lesser spec vehicles of the same age in excellent condition
or an early Phase 5 ( EFi ) in average condition.
or a Phase 3, 4 Door manual Turbo Diesel.

1000-2000- A huge range of vehicles, ranging from 1986- 1993. All EFi, Phase 5 & 6 ( Phase 6 1988- 1994 ) Mostly Vogue's and Vogue SE's
1992-3 will be tatty, or in need of work
below 2K. LPG converted from about 1200.

Ex police vehicles, mostly Turbo Diesels are very cheap, around 1400 for a 1992 'J' Reg example, in the compulsory shade of white.

Diesel's, on average are about 30-40 percent more expensive than their petrol counterparts.


Buyers Guide coming soon...