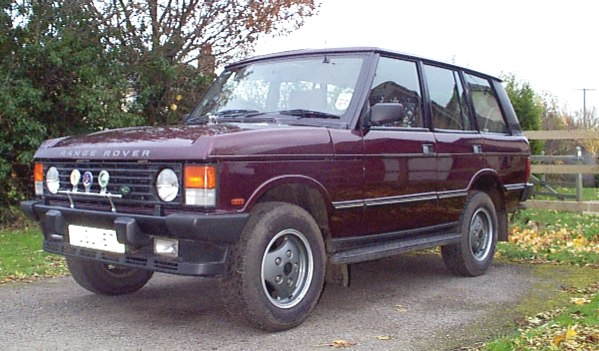 Above: Steves 1994 Vogue 300 TDi Automatic

The magnificent vehicle you see above you belongs to one very lucky man, Steve Pena from Suffolk. He has only recently acquired the vehicle, after taking it in part exchange for his 1997 Land Rover 110 CSW.

It is an extremely rare model for a number of reasons, a) it was one of the final Range Rover 'Classics' produced b) its a very rare Diesel model, which used the newly introduced and now much respected and praised 300 TDi engine from the Land Rover Discovery, only a few hundred were ever produced with this engine c) It has the very rarely chosen (On Turbo diesel models) 4 speed ZF (Zahnfabrik Freidrichshafen) Automatic Gearbox with manual override.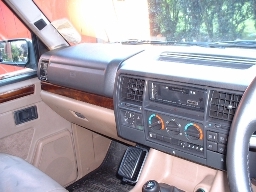 Left: The 'Softdash' Interior- it's quite special really.

One of the main reasons that makes this vehicle so rare is that its a 'Soft Dash' model- which to those of us that are unacquainted with the 'Classic' means basically that it has the facia of a late model Land Rover Discovery. Rather than being made out of cheap plastic, like the original that had a tendency to crack and fade (all pre 1993 Range Rover owners will sympathise with me) the 'Softdash' is made of more modern materials, which are more durable and of better quality. To some, the 'Sofdash' is less aesthetically pleasing than the earlier, original minimalist facia design. The 'Softdash' model has a redesigned steering wheel which incorporates a drivers Airbag. A passenger Airbag was an optional extra.
Another feature unique to the 'Softdash' model is a heated bonded windscreen- something which the Range Rover had been crying out for for years. Due to this the front pillars were redesigned and strengthened. The interior A-post trim was also updated along with a new style of headlining. Yet another instantly recognisable feature of the 'Softdash' was auxiliary front bumper over-riders which were located in the centre of the bumper- one on each side of the number plate.

Another, slightly more impressive feature of the 'Softdash Classic' is the combination of ABS (Anti-Locking Braking System) and Traction Control which sends power to the wheel(s) which need it most- greatly improving traction (And I was impressive with the original/ standard All-Wheel-Drive Range Rover- it sounds pre-historic in comparison!) and in this case, with twin (Driver & Passenger) airbags this Range Rover is a pretty safe place to be in to say the least!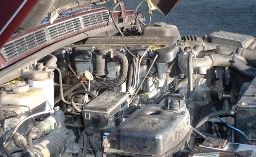 Right: The 300 TDi in all its Glory

This Range Rover was first registered August 1st 1994. She is finished in metallic Monterverdi red and according to Steve is "well, well, above average condition having never been used off road or even for towing".

As a Vogue specification model she has all of the available creature comforts inc: Electric windows, Tinted electric tilt/slide sunroof, Electric heated mirrors, Central locking, Power assisted steering, Anti-Locking Braking System, heated wind screen, Traction Control, Twin airbags and even Headlamp waher jets.


Being cherished by her last owner has resulted in full Land Rover main dealer service history. She was used regularly and has now covered 108,000 miles but a new Land Rover engine at 84,000. She has been maintained fastidiously by her previous owner who waxoyled annually (last done November 2001 including very thorough- Steve did it himself so should know) No expense has been spared- no cheap re-moulds here- expensive Pirelli 235/70/16 Scorpion tyres are a standard for this Range Rover

Steve says "Genuine Range Rover seat covers from new hence biscuit velour upholstery is in like new condition". She has the benefit of a genuine Range Rover dog guard & genuine Range Rover running boards. The last owner supplied Steve with the original manufacturers workshop manual, handbooks, and a rather eccentric chrome Retriever bonnet mascot...

Steve,
Suffolk
More Pics coming soon...