Jason and Carole Roberts from Manchester are two very lucky people. They are the proud (and so they should be) owners of a beautiful Arctic white 1985 model year Vogue Automatic-in fact, it's one of the first mainstream Vogue's to have been produced, and one of the rarest too. It is unusual to find a carburettor Vogue in Arctic white- very few were produced and this lovely example has been fitted with the optional Green side stripes and badging from new- this was only available on the 1985 Vogue's.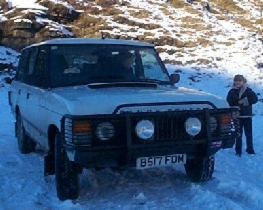 Jason tells me: "We love her very much, we used to own a series 2a swb and she is at present being restored by a mate of mine in the midlands. We bought her about three months ago from a local dealer, and she has now completed 156,000 miles- all on her original engine, which has not been rebuilt. She runs well, except for a little pinking from the carburettors and the odd rattle and tap here and there. When we got she had a brand new brake master which was faulty so we swapped it for second hand unit to pass her MoT".

In 1984, the Vogue was the best specification standard Range Rover money could buy, and to cap that off, this rare example has been loaded with options which include: Air Conditioning (now removed) colour coded Alloy wheels & originally optional and rarely specified Green side decals and badging.

Above: B517 playing in the snow...Union flag on the bumper is a nice touch. Right: Manchester City crest on the lower tail gate- soon to be checker plated due to an ongoing battle against rust- I'm sure all classic RR owners will sympathise.

The specification in the standard Vogue of 1984 consisted of: electric front and rear windows, electrically adjustable heated wing mirrors, central locking, eight way adjustable front seats with armrests, walnult door cappings, rear head and arm rests and a digital radio cassette. The Vogue was fitted with the standard low compression carburettor Rover V8 engine, and in this case was fitted with the Chrysler Torquefile 3 speed automatic transmission.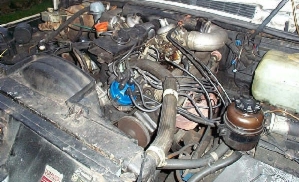 Left: A totally Air con free zone...

Jason explains: "I have just removed the air conditioning as it had been strangely setup, I hadn't seen this type of setup before but it is the standard setup which was there from new". Jason removed the Air conditioning because basicaly, it was totally knakered, and as he mentioned it was located in a bad position, which blocked access to the alternator. Air conditioning, if used regally can put the engine under unnecessary strain, and reduces fuel consumption quite dramatically- I think 15mpg hurts enough without air con!
Jason says: "She has a crest (See above) on her lower tail gate from Manchester city at the moment, but I was toying with the idea of alloy check plating the lower tail gate on the outside, as she has started to get a dribbles of rust stains running down it". This is sadly a quite common feature of most Range Rover Classics due to the fact that the tail gate was made of low quality steel, which was poorly finished, protected and painted- Ohh dear...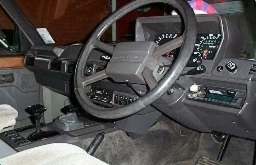 Right: A new and beautifully trimmed interior.

As stated above, the 1984's Vogue interior was very well appointed, but after 156,000 miles this one was starting to sow serious signs of wear. Something had to be done- a full re-trim was in order. All of the seats were replaced with exchange units of the same type, which are of course six way adjustable. The headlining was replaced, and this along with rotten tailgates is a recurring theme in older Range Rovers.
B517 FDM isn't perfect though- Jason explains: "There are quite a few little jobs that need doing to smarten her up, for example, I need to replace a rear passenger side light fitting as I caught it on a fence, snapping it in two and breaking the side reflector. I am waiting for a dry summer day to do these jobs- like renew the underseal (messy) while she is dry and clean her up on the out side". A more major part that needs attention is top tail gate- a serious ouch at over 230uk pounds new- this is a common problem, and will recur even with a new frame- unless you replace the original with an aluminium replacement.
Jason says: "Her under side is really good for her age mostly thanks to undersealing from new and her chassis is solid as a rock"- so in theory Jason, Carole and their family should have many years happy motoring in her- Good luck to them.

Jason & Carole Roberts,
Manchester.