1974 RANGE ROVER 2.8 TDi "BEAUTRICE"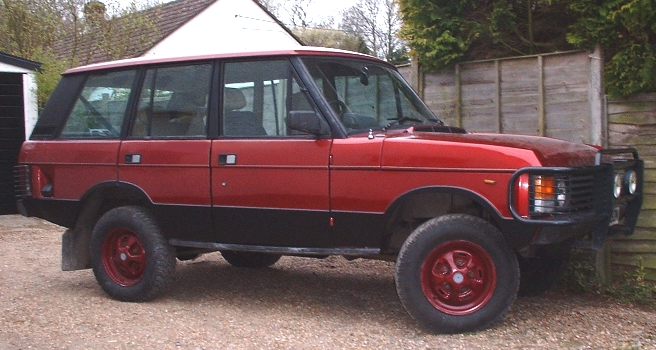 Beautrice, the magnificent vehicle pictured above is actualy a 1974 model, no matter what first impressions may imply. when aquired in early 2003, she had been upgraded to 1981 spec by her previous owner following the discovery of terminal rot in her original 2 door shell... and as I type is undergoing her third, and fingers crossed, final rebuild- which has included a body off strip down and chasis re-build, and replacement of the second 4 door body shell, due to once again- terminal rust. The third shell, again of a 1981 vintage, is from an early 'In Vogue' automatic- which means, basicly it was the best on offer at the time- fitted with air con, velour trim, front and rear arm rests, automatic trasmission (Replaced with manual) and metallic paint. Lovley!
Like the body, the engine is far from original spec- the V8 has been replaced in favor on a more economical unit- in this case, a Daihatsu TDi Diesel engine- from an accident damaged 1999 Fourtrack. Fitted to the original 4 speed LT95 gearbox, the engine is suprisingly frugal- with excellent performance (105mph) wonderful flexibility and fantastic economy (40mpg on average). Its not everyones cup of tea- but with a little soundproofing, is just as quiet as the V8.
As she stands now (22/09/03) the new (3rd) shell has just been fitted, and is awaiting the fitment of galvanized sills and rear cross member. The front inner wings have allready been substituted for galvanized items- this is one classic Range Rover that is not going to rust very quickly!
More info & pics added soon.