Wednesday 17th June 1970 is not a date etched on many minds. It is however the day that the Range Rover was announced to the worlds motoring press. Unknown to the Rover Company, it was a vehicle that over the years would totally revolutionise the leisure car market, a world beater.

The story had started a lot earlier. The Rover company had been "toying" with the concept of a more "upmarket" Land Rover Estate car since the early 1950s. The first project was named "Road Rover", and several prototypes were built using the P4 "Auntie" Rover car chassis. Towards the end of the 50s the project ground to a halt, and was shelved.

It remained dormant for a number of years, until 1966 when engineers Spencer King, and Gordon Bashford decided to set about designing a Luxury Land Rover estate car, using the powerful but relatively lightweight V8 engine, based on the a 100" wheelbase chassis.
August 1967 saw the completion of the first prototype, bearing chassis number 100.1

(100 inch chassis number 1), and the registration number SYE 157F. This was followed in 1968 by chassis 100.2 registration ULH 696F, this was a left hand drive version. Sadly both of these have long since been scrapped.

By late 1969 the prototypes had served their purpose, and "Line production" was ready to start, and a new chassis numbering scheme was introduced, using the numbers:

355 to signify "Home market RHD",

358 to signify "LHD"

356 to signify "RHD Export"

573 to signify "CKD" kits.

25 of these "Pre-production" Range Rovers were built during late 1969 and early 1970. They were registered in London, with the registration number sequence YVB 151H to YVB 175H.
The first three were registered on 2nd January 1970.

The name "Velar" (Vee Eight Land Rover) was used on these pre-production vehicles to confuse inquisitive observers about their true identity before the Range Rover was officially unveiled.

In May 1970, a batch of 20 production standard Range Rovers were built, 5 red, 5 white, 5 blue and 5 green.

In total 86 Range Rovers were built in 1970.

When the Range Rover made its debut in 1970 it was available in just one guise - a three door estate with four speed manual gearbox and permanent four wheel drive. The Range Rover was, and still is, unique, so much so that one model was exhibited at the Louvre as an example of modern sculpture. However, despite its more luxurious image the emphasis was still on practicality - the original brouchure extolled the virtues of a hoseable interior while the British Trans Americas Expedition proved the new vehicle was every bit as tough as the Land Rover by crossing the Darien Gap in 1972.

Over the years, the choice of Range Rovers has been extended to meet public demand. A four door model was launched in 1981 and automatic transmission the following year. In 1983 a five spped manual gearbox was introduced. Two years later the Range Rover Vogue received fuel injection, and in April of 1986 the Range Rover Turbo D made its debut. March 1988 saw the launch of Range Rover's new flagship, the Vogue SE, which featured air-conditioning, 4 speed automatic transmission, Connolly hide upholstery and electric tilt slide sunroof, all as standard.

At the 1988 British Motor Show, a chain drive transfer box and a viscous control unit were introduced. The VCU locks the centre differential automatically the instant that traction is lost.

In 1990 major improvements included the introduction of the 3.9 litre V8 engine replacing the 3.5 litre unit, the VM 2.4 litre engine increased in size to 2.5 litres, and anti-lock brakes introduced as an option on all models, standard on Vogue SE.

The Range Rover received the most significant changes ever undertaken to its suspension for the latest models which went on sale in the UK in January 1991. The key elements of the new suspension package included the fitting of anti-roll bars increasing roll stiffness by 25%. The result is that body roll is reduced on cornering, but the traditional luxury feel of complient suspension is maintained as is the Range Rover's unparalleled off-road performance.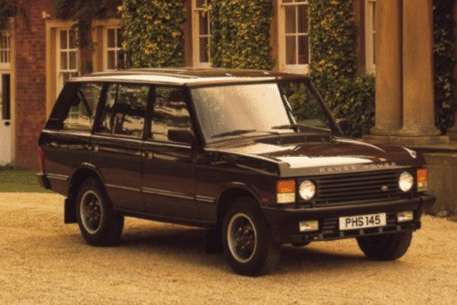 The final developments of the original Range Rover came in 1994 with the introduction of dual airbags - a first in the sport-utility market. Just a few months later, the New Range Rover made its appearance and the old one was renamed the Range Rover Classic to avoid confusion in markets where both were sold together. The last of the original Range Rovers was built in 1996, bringing to an end nearly 26 years of continuous production.
The original Range Rover made its mark with the emergency services, as well as in the luxury car class. By the time it went out of production, the original Range Rover had come to represent an unparalleled combination of character, capability and cachet to millions of people in all walks of life.
Evolution
Through out nearly 26 years of production the Range Rover was built in 7 Phases. Here is a brief summery of each.

Phase 1: June 1970- July 1979. 2 Door Models only. Basic trim & Spec. 1975 options package introduced, it included cloth seats, power steering, tinted glass and front inertia reel seat belts. 1978- Overdrive option.

Phase 2: Sept 1979- July 1981. 2 Door Models only. Improved trim, better sound insulation and carpeting. Options from Phase 1 now standard. Revised four spoke steering wheel. Quartz halogen headlamps introduced. Front wing/upper valance badges were deleted. Uprated alternator introduced. Air con became an option. 1980- Velour seats introduced.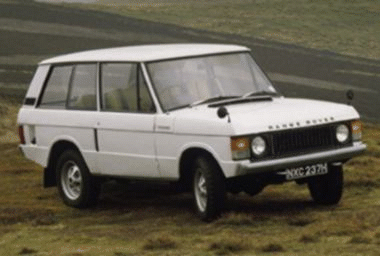 Phase 3: July 1981- June 1984. 2 & 4 Door models. 4 Door introduced, rear seats shifted back three inches. Revised interior door trim. Front quaterlights where reduced in size. Extras included electric windows, 3 spoke alloy wheels, walnut door cappings and air con. Higher compression engine standardised with more torque. Three speed automatic (from Chrysler) transmission became an option in 1982. Front arm rest option introduced. shorter gate five speed gear box took over the four speed in 1983, Also the exterior door locks were moved up to door handles. Central locking was standardised. The 2 Door model remained at Phase three spec as the 4 door moved on to Phase four.

Phase 4: June 1984- Oct 1985. 4 Door only. Front quaterlights deleted, new recline able, height adjustable front seats, with separate seat belts and head rests. New door trims with built in speakers. New style carpet and headlining. Available in either Silver grey or bronze check. Palomino velour (1980) discontinued. New style, built in door mirrors. New dashboard, with the addition of a passenger grab rail, six digit odometer and a rev counter.
New colour keyed front and rear badging. Revised heater giving 50% better output. Revised upper tail gate struts. New fuse panel. Weather shield between rear bumper and tailgate introduced. New major options included electric, heated door mirrors, rear luggage compartment cover, headlamp jet washers, and a four way speaker radio cassette.
All of these options were standard on the Vogue.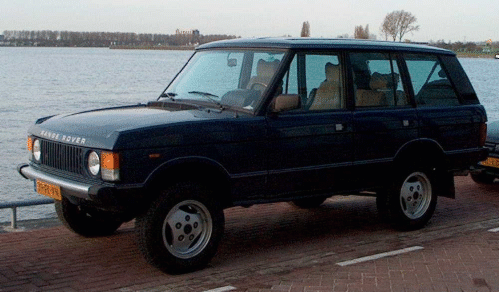 Phase 5: Oct 1985- Jan 1990. 4 Door only. 2 Door discontinued in the UK in 1985. Electronic Fuel Injection engine introduced with 165bhp over the carbs 125bhp.
1986- Turbo D introduced with a 2.4 VM Intercooled Turbo Diesel engine made in Italy especially for the Range Rover. Turbo D spec- 112bhp at 4200rpm & 183lb ft of torque at 2400rpm. New tyres introduced to cope with the Efi's higher top speed. New 4 speed autobox introduced. A new shorter, more car like gear lever was introduced to the manual model. Roll reducing suspension was announced making use of duel rate rear springs. Interior trim revisions included the new central mounting point for the radio and a new style centre cubby box. 1988- Interior door panels revised. 1988- Vogue SE launched, featuring a full Leather interior and Air con as standard.

Phases six & seven coming soon....