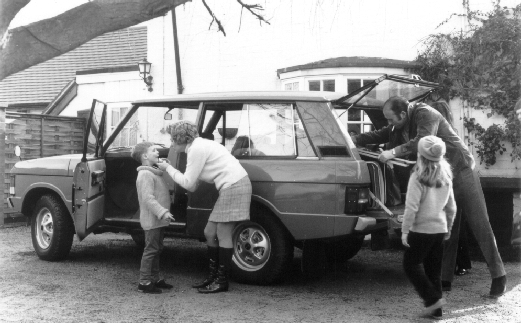 Above: Early Promotional Photo.

-Powered by a 132 b.h.p lightweight aluminium V8 3.5-litre engine modified to use a minimum of 85 octane fuel (research octane number) but still provide rapid acceleration to 95 m.p.h. (153 k.p.h) top speed.

-All synchromesh four-speed gearbox with transfer box developed especially for the Range Rover. Eight forward and two reverse gears are provided by the high and low ratio transfer box.

-Permanent four-wheel-drive, with a lockable differential incorporated in the transfer gearbox.

-Coil spring suspension with exceptional travel and automatic self-levelling unit at rear give superlative ride and impeccable handling under all conditions. Beam axles are employed to maintain constant ground clearance under the differentials, while under the middle of the vehicle ground clearance is even greater than the Land-Rover.

-Disc brakes all round with dual braking system and separate transmission handbrake to give secure four-wheel parking, particularly on steep inclines.

-Tubed radial ply tyres to cope with the 95 m.p.h (153 k.p.h) performance with deep tread for off-the-road use.
19 gallon (86 litres) capacity petrol tank.

-An attractive but functional estate car body with seating for five persons and 750 lb. (340 kg.) load capacity both on and off the road, or two persons and 1200 lb. (544 kg.) load (mid-bench seat folds forward to increase payload space.

Below: Early 2 Door finished in Davos White.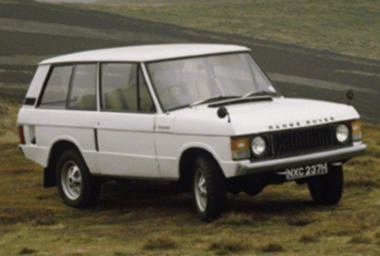 -Two door body unit with corrosion resistant aluminium body panels and mounted on an immensely strong and rigid box section chassis.

-Full body width rear access through two-piece (upper and lower) door, the upper section being controlled by pneumatic struts.

-Extensive window area including deep windscreen giving excellent all round visibility.

-Choice of six attractive colours.

-Fresh air heater with face-level air vents and through flow ventilation.

-Specially designed safety seats with in-built safety harness giving high degree of comfort.

-Other built-in safety features to meet safety regulations in different parts of the world, include collapsible steering column, impact absorbing fascia, flush fitting exterior door handles, safety interior grab-handles, hazard warning system, and petrol tank protected by surrounding chassis members.

-All control switches column-mounted for finger-tip operation.

-Two-speed windscreen wipers and electric screen washers.

-Light and precise steering, with a turning circle of 37 ft.
More info added soon...