Above: A nearly new C838 WWK parked infront of a row of used Camel Trophy Land Rover 110's.

Mark Griffiths, the Sales Manager at Huddersfield Land Rover, has developed a real talent for finding the rarest, unspoilt and most desirable Classic Range Rovers available- first A208 KLL and now this, a 1986 2.4 VM Turbo diesel, used in the 1987 Camel Trophy, and now most importantly, one of no more than five remaining. Camel Trophy Range Rovers are as you now know very rare. They come from the days in Camel Trophy's history when the vehicles that took part in the event were broken up rather than sold on.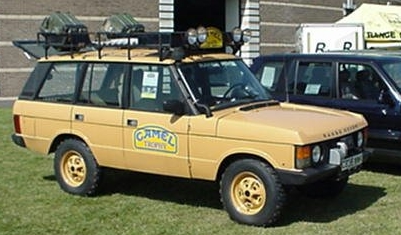 Left: C838 WWK at the LR show at Gaydon.

The 1987 M.Y Camel Trophy Range Rovers were basically totally standard vehicles, being based around the newly introduced 2.4 VM Turbo diesel engine (first introduced in the Rover SD1 with just 90bhpdue to a smaller Turbo) - a wonderful marketing ploy to prove just how good the Turbo D really was. They were all originally standard R/R colours (This one- C838 WWK, was originally Derwent blue metallic, which coincidentally is not the same as the other blue (Caspian blue) Range Rover in the photo).
The story is that when the Camel Trophy finished that year, most of the cars were scrapped. Mark says "To my knowledge the American team event car (D reg sequence of UK number plates) went to America, and ended up being sold to Africa. The UK event car (D reg again) was bought by one of the drivers (George Bee), and it is rough condition - but he still owns it today".

C838 WWK started life as a standard bottom of the range Derwent Blue Turbo D, with nearly no extras at all- just wood door cappings and rear head restraints. It was equipped with a 2393cc VM diesel engine with a KKK K16 turbo charger and a air-to-air intercooler which produced 112bhp. A LT77 (introduced 1983) 5 speed short stick (introduced 1985) manual gearbox was used, which was a standard feature of all Turbo D's.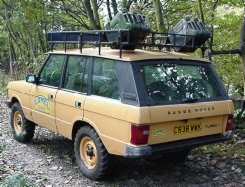 Left: C838 WWK, Finished in Sandglow.

For the 1987 event the Range Rovers were equipped with a Warn 8274 winch, roof rack, rear ladder, engine snorkel, 700x16 Michelin tyres, a unique to the event bullbar and the compulsory rollcage- but the mechanical components of the vehicle remained totally standard.

More coming soon...I Promise!