Above: Russet Brown Rangie (Big Brownie) on holiday, in Belgium, 1999.
Big Brownie, as she is affectionatly named by her owner, David Lowe (Lowey) is a 1982 4 door finished in the destinctive shade of Russet Brown- "She has a character all of her own like nothing else on the planet" says David.

David is a loyal LR Series 3 enthusiast and refuses to get interested in Range Rovers but ever since he took 'Big Brownie' off road he has now started appriciate the Range Rovers supream capabilities so much so that he thinks that "The Rangie is superior to anything else off road even in standard form"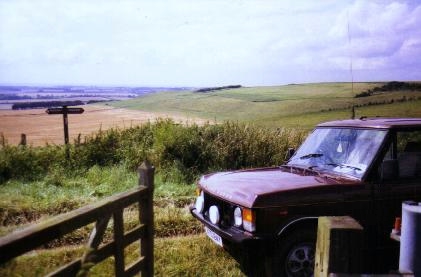 'Big Brownie' is has been cosmetically modified, or perhaps updated is a better word to use. She looks much, much younger than she really is thanks to the addition of late EFi style front and rear bumpers with wrap around overiders, colour coded Vogue alloys, EFi side rubbing strips, and just to add that extra touch of class- gold coach stripes and chrome capped wheel arches. To a person unacquainted with RR's she could easily pass for a 1988-91 vehicle with only the exposed petrol cap and front quater lights to give the game away.

Right: 'Big Brownie' green laning in Wiltshire.


The most recent modifications to 'Big Brownie' are for off roading purposes, and include metal rear bumper overiders, a steering guard and Bronco Macho off road tyres which according to David are "really unstoppable" off road and are highly recommended.

Because of a recent de-valuation of 'Big Brownie' by David's insurance company and plummeting used Rangie values due to the price of fuel he has decided to use her for serious off roading and green laning. In events with mainly other Land Rovers, 'Big Brownie' proves to be superior to most LR's in almost every way (But we all knew that anyway) David says "Tow outs were incredibly easy when recovering others, mainly 110 Landies"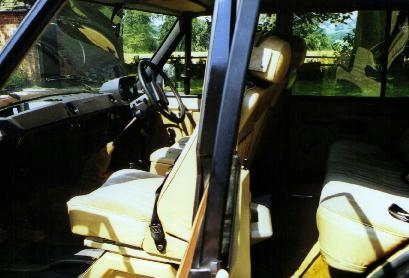 Left: 'Big Brownies' interior. She has late style Palomino crushed velour upholstery. Early 4 doors have the front enertia reel seat belts built in to the front seats, originaly designed for the fold forward seats of the 2 door.

The 'Bridge' as David calls it is a prime example of an early 4 Door interior, and quite a rare example at that. She is a rare example for two reasons only- she has no extras whatsoever and she is a manual gearbox model. She has no wood cappings, electric windows, rear head rests or even front arm rests- to a collector she would be much more desirable to the usual 'All singing , all dancing' Automatic of the same period.

She was specified from new with the character-full (whiny/clunky/noisy) 4 speed all -syncro gearbox, it is rare to find the 4 speeder in a 4 door because a) it was only produced for 2 years before moving on to the 5 speed unit and b) 85 percent of all RR's sold were Auto's.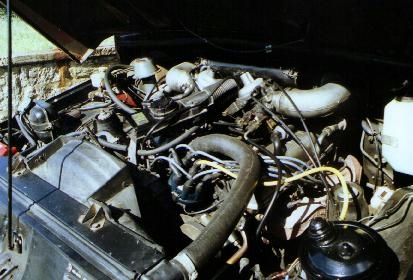 Right: Original engine after 120,000+ miles.

During 1999 'Big Brownie' went through a traumatic series of changes. At 120,000 miles her engine was tired and refused to pass the emissions section of the MoT.

David explains "Her camshaft was bright around the edges and brown in the centre indicating that it was very, very worn. The tappets were dished and pitted, the push rods had flats on their ends and I guess the timing chain was passed it's best. Upon removal of the camshaft it was clear to see the real problem. Two lobes on the camshaft corresponding to one valve on each bank of cylinders were particularly worn. These valves were very encrusted. All the head needed was a skim & de-coke at a local engineering establishment and new valves grinding in. The pistons needed a de-coke. The crankshaft needed a regrind and 10 thou undersize main & big end bearings fitted"

David decided he had had enough, it was 2 weeks before the LR show at Billing, and he needed 'Big Brownie' to get there under her own steam- there was only one option, yes a new ex MoD engine from RPI engineering (see links page)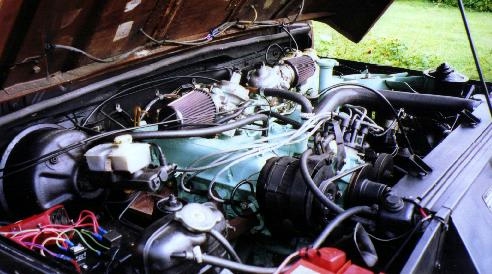 Left: The new ex MoD engine in place.

Suitable modifications had to be made before the engine could be fitted, David explains "It was obviously designed for a Forward Control 101. The exhaust manifolds had to be swapped for Rangie ones. The gearshift-mounting bracket had to be removed. The distributor had to be clocked around 180 degrees due to a foul on the refitted steering pump. The main pulley was changed for the Rangie one. A new oil pump base was fitted and primed with clean petroleum jelly. The heater hoses connected to the heater matrix using a new piece of plumbing due to the FC101 only having one pipe through pipe. New engine mountings were installed after the engine compartment had been completely spring cleaned using a combination of Smoothright on the chassis and satin mat black every where else. A pair of K & N filters to aid breathing and a twin Kenlowe fan installation completed the ensemble then it was ready for the road".

Davids account of one of his first off road expaditions in 'Big Brownie':

After a couple of overgrown green lanes it became clear to me that Rangie is superior to anything else offroad even in standard form. Why? Simply because I was leading a convoy consisting of 2 x LR D110's and they both got stuck. I had to tug one out of where Big Brownie got through first time. That 110 then pulled out the other 110 behind it.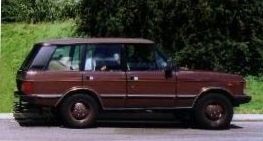 Big soft hills up or down were no problem. 300 metre 35 degree slope with deep ruts, tree roots and rocks through forest . Only damage to Big Brownie was folded back number plate. Selecting 2nd low box I was thinking S111 SWB petrol and wellied it. No, No, what a neck jerking experience? Backed off to half throttle, still accelerating, backed off to quarter throttle, changed up a gear and it was still launching itself up the hill. WOW! Never in a million years would a Series vehicle behave like that. Going back down the hill in 1st low box my Series vehicle would have increased revs under engine braking with all feet off controls and eventually jumped out of gear.

The Rangie performed downhill immaculately, 1st low box, feet off controls and forward speed never increased beyond a crawl. It was like being lowered on a rope. The gearbox never at anytime seemed as though it was going to jump.

David Lowe (Lowey)
Swansea
More Pics & Info coming soon...